Unfortunately there's nothing unusual about Salah Sukamel Deweket's story of being attacked by extremist settlers last week. Deweket was trying to graze his sheep on his land near Huwarra, a major Israeli military checkpoint, when he was attacked. Israeli soldiers supported the settlers.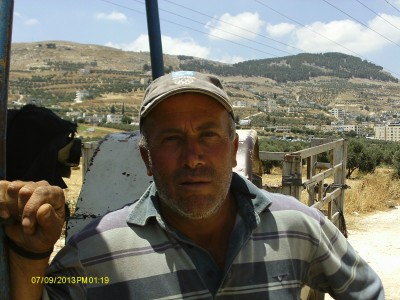 Bracha is an illegal settlement with a hesder yeshiva , a religious extremist community whose students combine Torah study with combat service in the Israeli military.
Here is the exchange between Salah Sukamel Deweket and the soldiers, as reported by the International Solidarity Movement: Settlers from Bracha attack and harass farmer on his land:
The settlers resumed throwing stones at him in full view of soldiers stationed at the Israeli occupation forces checkpoint at Huwwara. The soldiers did nothing but watch as the Palestinian farmer was attacked. As an occupying power the Israeli military are meant to protect all citizens in the territory.

Salah asked the older settler why he had destroyed his wheat. "People who stay in Israeli land have to be good Israeli people", the settler replied. "If this is Israeli land, where's Palestinian land?" Salah asked. "There is no Palestinian land" the settler shouted back. The settlers continued to graze their sheep on Salah's land and then encouraged their sheep to eat the olive trees of another Palestinian farmer who came to protect his land. 

It was only then that army jeeps came to intervene – asking why the Palestinian farmers were there. Salah tried to  explain the problem with the settlers to the army, who told him to take photos and go to DCO [District Coordination Office, a branch of Israeli occupation authority]. Salah then asked the soldiers if they were going to arrest the settlers, to which they said, "we don't know, it's up to the judge." When the soldiers were asked why they did not come earlier, they replied that it wasn't their problem. The next day Salah tried to fix his wheat bales but the settlers kept coming and causing problems. Soldiers eventually came and told both Salah and the settlers to leave but said that the Palestinians must leave first.
We've recorded exchanges of this nature time and again, in varying degrees– soldiers acting as the Messiah's donkey, to use a religious phrase for non-religious serving a religious aim.
Where's the relief? Yesterday the Jerusalem Post reported once again about another 'investigation' of Jewish extremist violence– "pricetag" attacks in East Jerusalem. But however feeble that investigation, the conditions don't change. 
More from that ISM report:
Palestinians face many attacks by settlers of varying severity. Religious extremists living in illegal settlements attack Palestinian people, lands and crops. Palestinians have almost no means of legal recourse or protection from settler attacks but are routinely targeted by the army in mass arrests in the alleged defence of the Israeli occupation and settlements. Even when Palestinians can contact the DCO, the coordination office can often not solve issues with settlers who generally are treated with impunity under Israeli law. Settlements are illegal under international law under the fourth Geneva convention.
No, nothing changes.