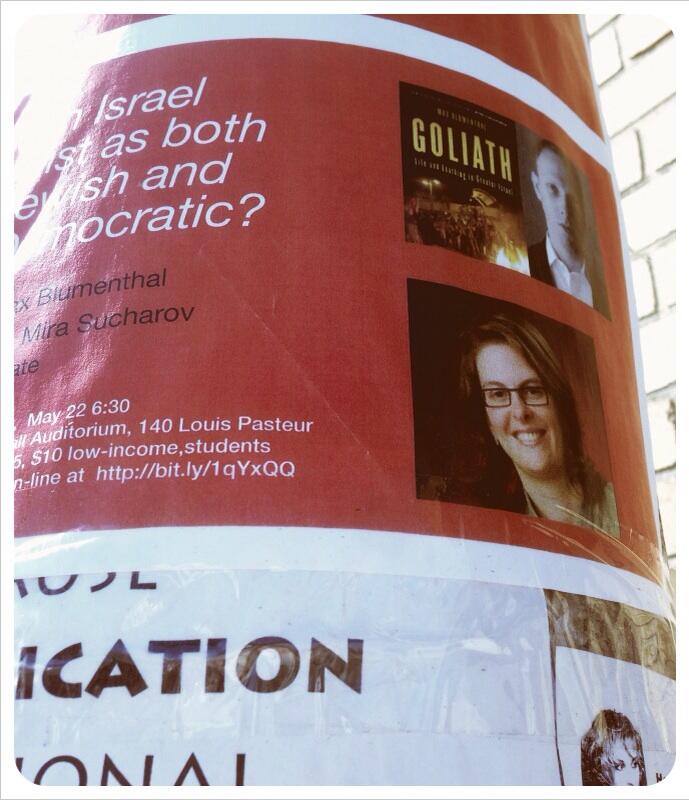 Mira Sucharov, a liberal Zionist writer who teaches political science at Carleton University, is set to debate Goliath author Max Blumenthal tomorrow night at the University of Ottawa. The question:
Can Israel exist as both Jewish and democratic?
Braintwister!
In the meantime, Sucharov has published a piece in the Ottawa Jewish Bulletin calling for an open debate between Zionists and their critics. It is titled, "Values, Ethics, Community: 'I am concerned that a chill factor is setting into our communities'". Excerpt:
[W]hile I am frequently critical of Israeli policies, I still believe Israel can be saved from itself…. I believe helping Israel end the occupation is therefore a moral imperative for the Diaspora Jewish community.

Unlike those on the far left, though, I believe that, without prejudicing the lives of citizens within a given state, every country has the right to define its identity as it sees fit. And, as a Jew who was raised with Zionist narratives and feels a deep emotional connection to Israel, I admit a certain subjective attachment to the idea of maintaining a Jewish and democratic state.

If we cannot engage in dialogue with those we disagree with politically – assuming basic standards of decency are being respected (meaning no hate, no racism, no Islamophobia and no anti-Semitism) – then what do we, as human beings, have left?
Just one chilly little problem. The Ottawa Jewish Bulletin apparently didn't want to mention Sucharov's debate with Max Blumenthal because the event is sponsored by Independent Jewish Voices, which supports boycott. Blumenthal also supports BDS.
And Sucharov went along with the censorship, she says in tweeting the piece:
When my draft was returned for mentioning my May 22 debate w/ Max Blumenthal (bc IJV sponsor) I wrote this instead. http://t.co/bpsFb0WCc5

— Mira Sucharov (@sucharov) May 9, 2014
Sucharov also tweets that "Shul won't let me put up a poster," for the debate– though she took the photograph from the street that runs atop this post. 
Some day 20 years from now people will read this and not believe it actually happened. The most educated, privileged, affluent group on the continent, and its official bodies stoppered their ears.